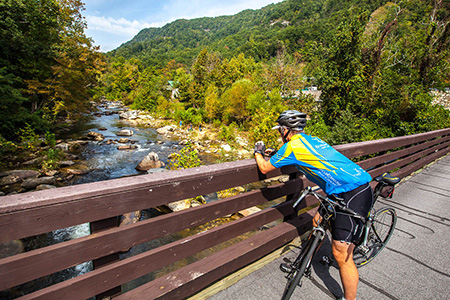 Banner Elk has been selected as the starting point for the 2016 "Mountains to Coast Ride," hosted by Cycle North Carolina.
All participants arrive in Banner Elk on Saturday, Oct. 1. The ride begins the next day at Tate-Evans Park in Banner Elk and concludes Saturday, Oct. 8, in Atlantic Beach. A total of 1,100 riders are expected to participate, which is the highlight of the year for many cyclists from across the nation.
The "Mountains to Coast Ride" was created in 1999 and is North Carolina's only fully-supported ride. It is designed to promote North Carolina's beauty, tourism, visitor attractions, historic sites, state parks, healthy lifestyle and the benefits of bicycling.
During the course of the week, riders will bike an average of 60 miles per day. In addition to overnights in Banner Elk and Atlantic City, stays are also planned for the towns of Wilkesboro, Lexington, Burlington, Sanford, Clinton and Jacksonville.
"Cycle North Carolina events generate an economic impact that exceeds $3 million a year for numerous small North Carolina towns," says Wit Tuttell, executive director of Visit NC. "The event travels secondary roads, exploring all areas of our great state."
For more details or to register online, go to www.cyclenorthcarolina.org.
For a full list of lodging options in Banner Elk, click here.