Apple Hill Farm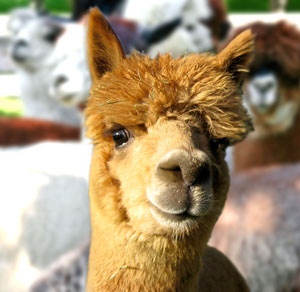 400 Apple Hill Rd
Banner Elk, NC 28604
828-963-1662
*Tours by Appointment Only*
One of the best kept secrets in the North Carolina High Country is the Apple Hill Farm, located just outside Banner Elk.
Apple Hill is a working alpaca and llama farm, with a popular gift store, that offers tours year-round to visitors.
The tours are guided, educational walking tours that generally last about 45 to 60 minutes. On each tour, visitors learn about the variety of animals and hear their stories as well. Most animals are very friendly, but they are in their fields and may choose not to interact with guests depending on their mood.
Walk-ins are welcome at the farm store, but visitors who wish to see the animals must purchase tour tickets in advance. Tickets can be purchased online by clicking here. Tour availability and store hours vary by season, so call or check the website before heading to the farm.
The farm covers several acres near the top of a ridge, with bucolic farm land and panoramic views. Visitors get a chance to see and interact with a variety of animals, including alpacas, llamas, angora goats, horses, donkeys, ponies, pigs and chickens.
Meanwhile, an impressive collection of day lilies dot the landscape. And, don't forget the apple trees!
Fiber from the angora goats is made into mohair and sold in the farm store. Also sold in the store is alpaca yarn made individually from each alpaca, so visitors can pick out yarn from their favorite alpacas with names like Billy, Meadowlark and Mojo.
Apple Hill Farm hosts regular events, such as alpaca shearing day and a Christmas celebration.
During the pandemic, Apple Hill offers 10-minute Zoom video sessions with the alpacas and llamas. The sessions are up close and personal with the animals and have been enjoyed by people all over the world. Cost is $10 per session. Folks can also arrange a "llama bomb" of a work Zoom session or a session with friends, for $25. For more info on the virtual visits, click here.
For more information, call 828-963-1662 or click here.