Edge of the World Outfitters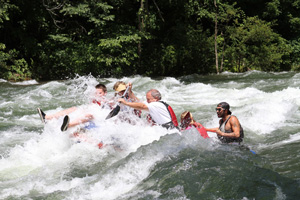 394 Shawneehaw Ave S
Banner Elk, NC 28604
800-789-3343 (EDGE)
This downtown Banner Elk outfitter specializes in white-water rafting, kayaking, rock climbing and rappelling. The family-run business encourages getting outdoors as a family unit.
White-water rafting trips are popular group excursions as groups board buses in Banner Elk and head to Elizabethton, Tenn., about 45 minutes away. Rafting takes place on the Watauga River with the trip downriver lasting about three-and-a-half to four hours, including lunch. The outfitter serves tasty lunches of fried chicken with all the fixings, including homemade trail mix. Vegetarian and gluten-free options are also available.
During white-water trips, guest can take advantage of the "Anaconda Rerun." This special treat allows rafters to go through the largest rapid, Anaconda, as many times as they like.
Torrent kayaks, where riders sit on top of the craft, provide another option for rafting trips, as long as everyone meets the minimum age of 12 years old for kayaking.
Rock climbing and rappelling challenge all skill levels. Children must be 12 years old or at least 100 pounds. The daylong adventure involves a trip to Little Lost Cove Cliffs in the Wilson Creek Wilderness area, featuring views of Grandfather Mountain. Instruction covers three phases: emphasizing safety, building self-confidence and respecting the mountain. Most guests rave about the 60-foot overhanging rappel in which climbers spend time suspended in the air.
All equipment needed for any of the trips is included. Trips can be booked online or by phone. Discounts are available for children and large groups. The season runs from Memorial Day weekend to Labor Day weekend. Edge of the World also operates a snowboard shop. During the winter, customers can purchase boards, clothing and other gear before hitting one of the nearby slopes.
Gather more information at 800-789-3343 or www.edgeoworld.com/summer.