Emerald Outback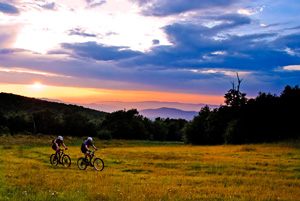 Emerald Outback Loop
Beech Mountain, NC 28604
800-468-5506
The Emerald Outback Trail Park, located near the summit of Beech Mountain, is a multi-use trail system created by the Beech Mountain Parks and Recreation Department. The Emerald Outback stands out as one of the highest trail parks east of the Rockies, with elevations up to 5,400 feet above sea level.
The trail system consists of seven trails covering about eight miles of terrain. Five of the seven trails are rated as moderate to advanced in degree of difficulty, while two trails are rated as easy. USA Cycling has twice hosted its Collegiate Mountain Biking National Championships in the Emerald Outback.
The trails attract mountain bikers, hikers and trail runners, while flowing through lush forests and over rocky, rooty terrain. There are three scenic overlooks, as well as several other vantage points that provide long-range panoramic views.
There are three ways to access the trails: (1) via the Base Lot across from the Visitors Center in the town of Beech Mountain; (2) via the "Summit Lot" that is located higher up the mountain near the trails; and (3) via the chairlift at Beech Mountain Resort. The lift, which is equipped to carry mountain bikes, operates every Friday, Saturday and Sunday from early June through mid September. Please note: there is no charge to use the trails, but there is a fee to ride the lift.
For more information or to request a free trail map, call (800) 468-5506.