Grandfather Mountain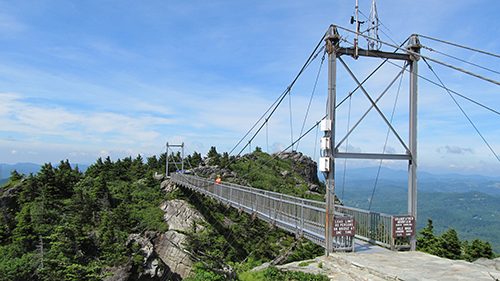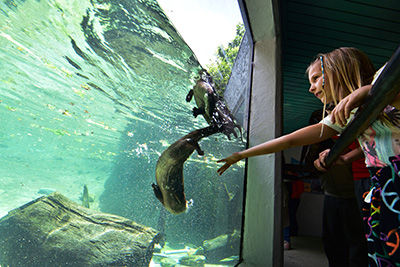 Grandfather Mountain
Linville, NC 28646
800-468-7325
Grandfather Mountain is a popular tourist attraction located atop one of the highest peaks in the Blue Ridge Mountains. Each year, it attracts about 250,000 tourists who spend the day hiking, viewing animals, visiting the nature museum and picnicking.
One of the mountain's best-known pastimes is a walk across the Mile High Swinging Bridge. At one mile above sea level, the bridge is the highest suspension footbridge in the country. A journey to the end offers 360-degree views of the surrounding mountains and valleys. The nearby "Top Shop" provides elevator access to the bridge, making it accessible for all visitors.
COVID-19 Update: As of May 15, 2020, Grandfather Mountain is scheduled to be open during the summer and fall of 2020, but with certain limitations and safety protocols in place. For full details, see this article.
The mountain has 11 hiking trails, varying in difficulty from an easy stroll in a meadow or woodland to a rugged trek up challenging terrain. Interpretive rangers are available year-round to lead guided hikes, bird walks and wildflower walks for groups and families. As you hike the trails, you'll see birds, squirrels and other forest creatures.
The mountain also has several environmental habitats that showcase animals in their natural settings. See black bears, elk, river otters, cougars and bald eagles as they play, pounce and swim. For even closer access to these native animals, behind-the-scenes tours take place on Saturdays and Sundays from April through October. You can also sign up to be a "keeper for a day" and assist with daily animal care.
The Grandfather Mountain Nature Museum contains more than two dozen exhibits about the region's natural history. See emeralds, rubies and gold pulled from the North Carolina soil, a scale model of Grandfather Mountain and lifelike wax examples of wildflowers, berries and mushrooms that are found here.
Plan to stay for lunch. Pack your own picnic or order something to go from Mildred's Grill. More than 100 picnic tables are scattered throughout the property. Don't leave without a sweet treat from the Grandfather Mountain Fudge Shop.
The mountain gets its unique name from pioneers who recognized that from certain vantage points, the cliffs resemble the profile of an old man or a "grandfather."
Grandfather Mountain is open daily year-round, weather permitting. Hours vary seasonally. Lodging packages that include tickets to Grandfather Mountain are available on our lodging specials page.