Hawksnest Snow Tubing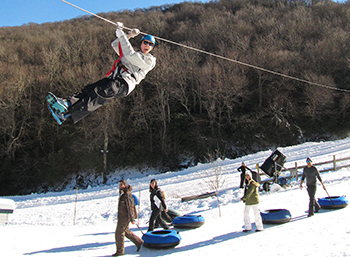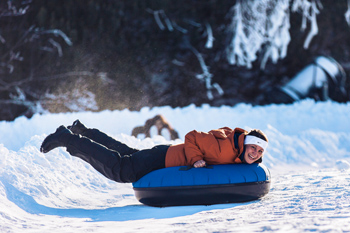 2058 Skyland Drive
Seven Devils, NC 28604
828-963-6561
On the snow or in the air, a thrilling winter experience awaits at Hawksnest Resort.
Hawksnest is home to the East Coast's largest snow tubing park for those who wish to play in the snow, and a special Snowbird Zipline Tour for those who want to fly through the air.
On the ground, the Hawksnest snow tubing park has four interconnected areas consisting of more than 30 tubing lanes. The lanes are 400 to 1,000 feet in length with two moving carpet lifts that continuously take tubers back to the top for more fun. The tubing park has 100% snowmaking and lighting on all lanes, providing the best possible conditions for the whole family.
Hawksnest is open seven days a week throughout winter (weather permitting) with sessions lasting one hour and 45 minutes. There are four daily sessions Monday through Thursday, five sessions on Fridays, Saturdays and holidays, and three sessions each Sunday. Tubing is open to anyone age three and older.
Hawksnest also offers an opportunity for zip lining high above the tubing lanes. Each winter the resort operates a Snowbird Tour that traverses four cables above the snow. The four cables are part of the larger Hawk Tour, which is comprised of 11 cables in warmer months.
The Snowbird Tour takes about 1.5 to 2 hours to complete and participants must be five years or older.
Also, don't forget to enjoy the coffee bar, Carolina barbecue and tasty pizza before, during and after your tubing and zipping sessions.