Hickory Ridge Living History Museum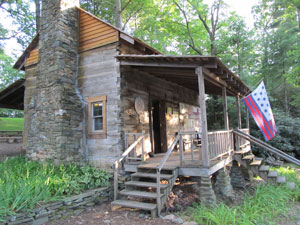 591 Horn in the West Drive
Boone, NC 28607
828-264-2120
Hickory Ridge Living History Museum is located on the grounds of Horn in the West, the nation's oldest Revolutionary War drama. The museum was created in 1980 to foster a better understanding of the life of the settlers in the Horn in the West outdoor drama.
Staffed with interpreters in period clothing, the 18th century homestead gives visitors a glimpse into the daily lives of early mountain settlers. The museum also provides insight into the self sufficiency of our forefathers by showing the routines and skills they possessed such as hearthside cooking, weaving, making candles, spinning and blacksmithing.
The museum strives to recreate the atmosphere of a small mountain community around the time of the Revolutionary War when furnishings were sparse but the family was diverse with its religion, humor, and self sufficiency, creating a warm atmosphere.
For visitor information, call 828-264-2120 or go to: www.HickoryRidgeMuseum.com