Horn in the West Outdoor Drama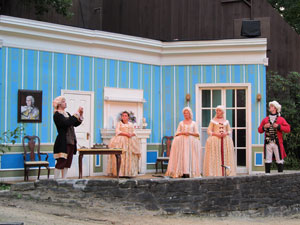 591 Horn in the West Drive
Boone, NC 28607
828-264-2120
Horn in the West is the nation's oldest Revolutionary War drama. It brings to life famous frontiersman Daniel Boone and the hardy mountain settlers in their struggle to preserve their freedom during the turbulent years of the War for Independence. The drama highlights those settlers who came to the Blue Ridge Mountains seeking freedom and escape from British tyranny.
As playwright Kermit Hunter wrote in the original script "The gaze of man is westward, as if he could glimpse somewhere beyond, the golden reaches of eternity. As though he could hear, blowing in the distant sunset, a Horn of Freedom!"
A big part of the production is the outdoor amphitheatre, built in 1952 in just three months. The 2,500-seat Daniel Boone Theatre has been described as the best outdoor theatre in the East, carved from 35 acres of rugged mountain terrain, including a tree-covered ravine.
The season typically runs from early June through mid August. Cast and crew of Horn in the West are all professionals, hired through a series of combined auditions throughout the Southeast.
For tickets or more information, call 828-264-2120 or www.HornInTheWest.com