Sky Valley Zip Tours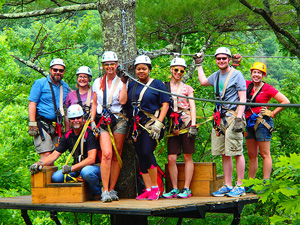 34 Sky Ranch Road
Blowing Rock, NC 28605
1-855-475-9947
Sky Valley is a treetop zip-line adventure. Located between Boone and Blowing Rock, the property covers more than 140 acres of old-grown forest. The course includes 10 zip lines, as well as a swinging bridge over a 35-foot waterfall and a cliff jump.
The journey starts with an ATV ride through the river and up the mountain. "Ground School" is an informational session before the zip-line tour where rangers explain the equipment, give zipping instructions and allow participants to train on practice lines. Two rangers accompany each tour group.
The first three zips are warm-ups. Then comes Big Mama, a 1,600-foot zip line that's 300 feet above the ground. That single zip takes about 40 seconds, and riders reach speeds of more than 30 miles per hour. The scenery is the star for the entire tour. Riders zip over and through trees while enjoying panoramic views of the surrounding mountains.
Sky Valley is appropriate for beginners and experienced zip-liners. The tours are great outings for families, groups of friends or company retreats. Kids must be 10 years old to participate, and riders must weigh between 70 and 250 pounds. Those younger than 18 must have the signature of a parent or guardian. The tour takes about two-and-a-half to three hours to complete.
A photographer accompanies each tour to capture memorable moments. Closed-toe shoes are required. Tours run rain or shine, so rain jackets are recommended. It's chillier in the High Country than at lower elevations, so participants should dress in layers.
Sky Valley often partners with other area attractions, such as breweries and river outfitters, so keep an eye out for packages. Advance reservations are encouraged.