Wilderness Run Alpine Coaster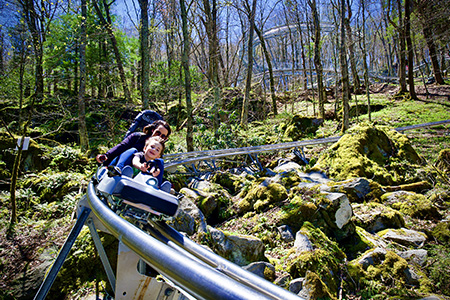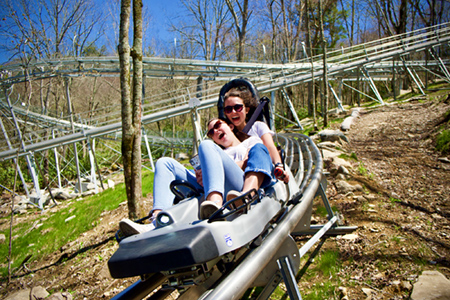 3265 Tynecastle Highway
Banner Elk, NC 28604
828-898-7866
Wilderness Run Alpine Coaster is North Carolina's first alpine roller coaster, providing thrilling outdoor adventure in Banner Elk.
Wilderness Run is built by Germany's top alpine coaster company and modeled after popular coasters in Europe. The track's length of 3,160 feet includes three circular loops, a series of waves and several twists and turns for plenty of excitement.
Guests navigate the track in individual carts that are designed to accommodate up to two people.
Each ride begins with a cable-pulled ascent of 770 feet to the top. At that point, the alpine coaster differs from a roller coaster because the remainder of the ride is gravity-fed with the rider grasping two handles that serve as brakes. Riders can use as little or as much braking as they like.
The top speed is 27 miles per hour, and the average ride takes about five minutes.
"You're looping, dipping or turning. There is no point in the five minutes where you are just riding," says Eric Bechard, who co-owns the coaster with his wife, Tara. "It's very fast and a whole lot of fun."
The six-acre attraction is open year-round and includes a clubhouse, observation deck, gift shop and coffee shop.
Watch a fun video of Wilderness Run on our video page!
Advance reservations are mandatory. This spreads out ridership and limits the amount of people on track and on property for safety reasons.
To schedule a reservation, click here. To learn more, visit the website or call 828-898-7866.
[Related Content: For more outdoor adventure, click here]