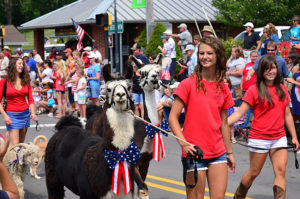 Make plans now to attend the annual Mile High Fourth of July celebration, June 29-July 4. The resort towns of Banner Elk and Beech Mountain have joined forces for six days of fun that includes: fireworks, live music, arts, culinary options and Banner Elk's famous Fourth of July Parade and Party in the Park.
The fun begins on Friday, June 29, with music on the patio at Banner Elk Cafe at 6 p.m. Also that day is a Lee-McRae Summer Theatre performance of the musical The Wiz at 2 p.m. in Banner Elk.
The centerpieces of this fun-filled weekend are Beech Mountain's Fireworks and 47th Annual Roasting of the Hog on Saturday (June 30) and Banner Elk's Fourth of July Parade and Party in the Park on Wednesday (July 4).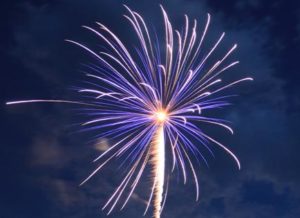 Saturday's fireworks & pig pickin' take place atop Beech Mountain, more than a mile high at 5,506 feet above sea level. Slow roasted barbecue pork and turkey are available beginning at 6 p.m., with a fireworks spectacular at dark.
Wednesday's July 4th lineup in Banner Elk is an all-American celebration to make Uncle Sam proud, starting with the Fourth of July Parade on Main Street at 11:00 a.m. The parade concludes with a party in Tate-Evans Town Park, where folks enjoy lunch from several vendors and traditional games like egg-toss and sack races. You can even enter a ducky in Banner Elk's Duck Race on the creek.
Other fun events include the Avery County Wine & Beer Festival on Saturday (June 30) in downtown Banner Elk; a Tuesday evening (July 3) concert in the Beech Mountain kite field by DeCarlo, featuring the lead singer of the legendary rock band Boston; and a Wednesday (July 4) pig roast and lawn party, complete with craft beer from Flat Top Mountain Brewery, hosted by Dunn's Deli in Banner Elk.
Live music plays a big role, with eight bands performing at various venues across the six days. For complete information, visit the official event website by clicking here.
For those who stick around the following weekend (July 7-8), be sure to check out the Art on the Greene fine art and craft show on the lawn of the Historic Banner Elk School.