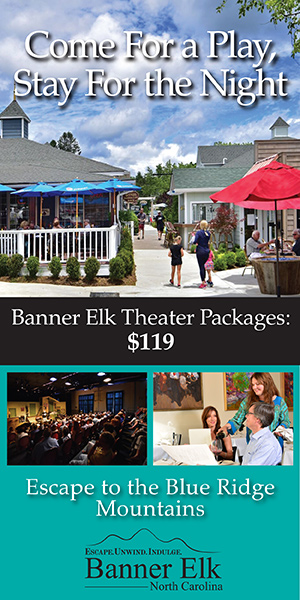 Banner Elk theater packages are a great way to enjoy this walkable resort town in the Blue Ridge Mountains. Packages start at $119 per couple and include: one night of lodging at a choice of accommodations, two tickets to an Ensemble Stage production, discount dining at Banner Elk Cafe & Lodge, and breakfast the next morning at your lodging.
Ensemble Stage presents professional theater year-round in the intimately-renovated auditorium at Historic Banner Elk School in the heart of town. It is a short walk to the theater from the Perry House Bed & Breakfast and the Best Western Mountain Lodge is just 1.3 miles from the theater.
Actors are hired from across the country for a playbill that includes comedies, dramas, murder mysteries, holiday shows and more.
Packages include 15% off vouchers to Banner Elk Cafe & Lodge, which offers a wide menu to please most appetites. Banner Elk is known as the Culinary Hot Spot of the High Country and several restaurants are within walking distance of the theater. To see more restaurants, click here.
Booking is easy. Select a show from the list below, then call the accommodations to ask for the Banner Elk Theater Package. Your hosts prefer at least a week's advance notice, but will make every effort to accommodate shorter lead times. Lodging phone numbers are: Best Western Mountain Lodge (828-898-4571) and Perry House Bed & Breakfast (828-898-3535).
Here are links to the two participating lodging options: Best Western Mountain Lodge and Perry House Bed & Breakfast.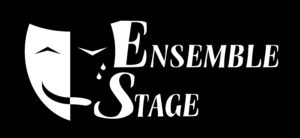 Ensemble Stage Playbill (June-Oct. 2020)
— Tiny Island: Postponed to 2021
— Catch The Butcher: Postponed to 2021
— Beer For Breakfast: Postponed to 2021
— Zaglada: Postponed to 2021
— Slow Food: Sept. 25, Sept. 26, Sept. 27, Sept. 29, Oct. 2, Oct. 3 and Oct. 4
— Halloween Drama TBA: Oct. 30
To learn more about Ensemble Stage, click here