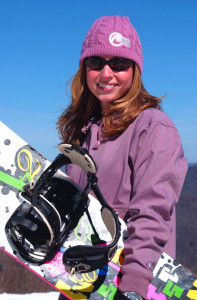 A visit to Banner Elk comes with an amazing array of activities. The town is geographically positioned to take advantage of all there is to see and do in the High Country of North Carolina.
Within 30 minutes (or less) of Banner Elk's lone stoplight visitors can enjoy attractions, outdoor adventure, family fun, winter sports, shopping, museums, wineries & breweries, spas and much more.
In winter, visitors to Banner Elk are just 10 minutes from the two largest ski resorts in the South: Sugar Mountain Resort and Beech Mountain Resort. Both resorts feature exciting terrain for skiing and snowboarding, as well as the latest in rental equipment.
Each resort also offers ice skating and snowtubing. Sugar Mountain has North Carolina's only double black diamond slope; Beech Mountain has North Carolina's only mountaintop skybar.
New for the winter of 2020-21 is North Carolina's first alpine roller coaster, Wilderness Run Alpine Coaster. This exhilarating attraction is open year-round to people of all ages. Each cart accommodates one or two people. Once the cart is pulled by a cable to the top, the remainder of the ride is downhill — fed by gravity — with riders using hand brakes to control the speeds, which reach up to 27 miles per hour.
Other winter fun is a little further away at Hawksnest Resort and Appalachian Ski Mountain. Hawksnest Resort is the largest snowtubing park on the East Coast with nearly 30 lanes for tubing. Hawksnest also offers winter zipline tours that soar above the tubing lanes. Appalachian Ski Mountain was the first ski resort in North Carolina and provides skiing, snowboarding and ice skating. Appalachian is also home to the French-Swiss Ski College, which has taught more than a million lessons since opening in the early 1970s.
[Related content: Top 4 snow tubing spots in NC mountains]
In spring and summer, visitors come to Banner Elk to enjoy beautiful scenery and pleasant temperatures. The town is located at 3,701 feet above sea level, making it a cool getaway as warm weather becomes pervasive in the South.
Warmer months bring opportunities for hiking, biking, rafting, tubing, horseback riding, antiquing, festivals and gallery tours. Edge of the World outfitters in downtown Banner Elk serves up exhilarating whitewater and river adventures, as well as rock climbing excursions. A more relaxing outdoor experience is available at Wildcat Lake, a free public lake in town complete with a white sand beach, swimming area, fishing pier, canoe rentals and a park.
North Carolina's first alpine roller coaster, Wilderness Run Alpine Coaster, offers year-round excitement for folks of all ages.
Meanwhile, famed mountain attractions like Grandfather Mountain, Linville Caverns, the Blue Ridge Parkway, Tweetsie Railroad and The Blowing Rock are just a short drive away.
[Related content: Grandfather Mountain lodging packages]
When it's time to eat, Banner Elk has you covered. The town is known as the "culinary hot spot of the High Country." Some of the best chefs in North Carolina go to work every day in Banner Elk. Cuisine ranges from from five-star white linen dining to upscale casual to down-home cooking to tasty delis.
Local craft spirits are on tap at Kettell Beerworks and Banner Elk Winery. More wineries and craft breweries are within a 20-mile radius of downtown.
Make a trip soon to Banner Elk. It's a great place to escape, unwind and indulge in the Blue Ridge Mountains of North Carolina.