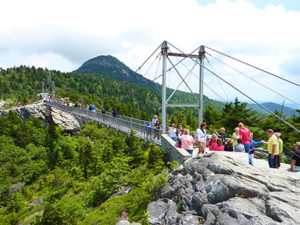 It's a 15-minute drive from Banner Elk to the entrance of Grandfather Mountain, one of North Carolina's largest and most popular attractions.
Once inside the front gate, visitors enjoy an ecologically diverse nature preserve that blends the rugged adventure of a remote mountain with lower-impact activities and modern conveniences.
It is easy to spend an entire day at Grandfather Mountain thanks to a variety of experiences, such as hiking wilderness trails, viewing wildlife at the animal habitats, visiting the Nature Museum, grabbing a bite to eat at Mildred's Grill and walking across the famous Mile High Swinging Bridge. Plus, special lodging packages are available that include Grandfather tickets.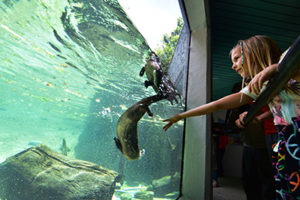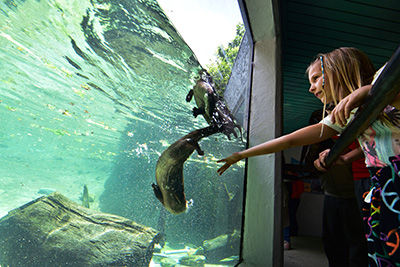 [COVID-19 Update: Grandfather Mountain will continue to be open in 2021 with certain limitations and protocols in place. For full details, see this article.]
The Mile High Swinging Bridge has captured imaginations since Grandfather Mountain's original owner, Hugh Morton, installed the suspension bridge in 1952 across a chasm near the peak. The bridge was estimated to be a mile above sea level and served hundreds of thousands of visitors until 1999, when it was rebuilt with stronger cables, plus floorboards and side rails made of galvanized steel instead of wood.
A few years later, when the Morton family transferred the mountain's ownership to the nonprofit Grandfather Mountain Stewardship Foundation, a geological survey concluded that a spot in the middle of the bridge was indeed 5,280 feet (one mile) above sea level. The floorboard at that point is now marked with the elevation.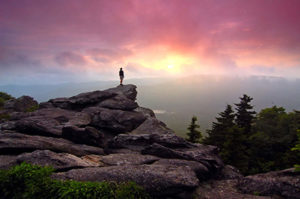 The Mile High Swinging Bridge not only offers the thrill of traversing a rocky chasm at an altitude of 5,280 feet, it also provides access to the mountain's Linville Peak, a rocky bald that offers amazing 360-degree views of the North Carolina High Country.
On a clear day, folks can view nearby peaks like Sugar Mountain, Grandmother Mountain, Table Rock and Hawksbill, as well as further away peaks like Mount Mitchell, the highest peak east of the Rockies. On super clear days, the skyline of Charlotte (90 miles to the south) can be seen.
Additional fun can be had on the mountain in the following ways:
Naturalist programs
Picnicking on more than 100 tables and grills
Special activities and guided tours
Two gift shops and an eco-friendly fudge shop
A dozen miles of hiking trails
Wildflower walks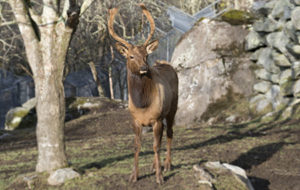 Visitors to Banner Elk often ask where they can see live elk, and the answer is the Mildred the Bear Environmental Wildlife Habitats at Grandfather Mountain. There are habitats for elk, black bears, cougars, bald eagles and river otters. They are named after Mildred the Bear, who was released on the mountain in 1968 but chose to hang around the attraction instead of scampering into the wilderness like her brother did. She served as the mountain's unofficial mascot until her death in 1992 at the age of 26.
Grandfather Mountain is also a UNESCO International Biosphere Reserve. The reserves are places designated by the United Nations for testing approaches to understanding changes and interactions between social and ecological systems, including the sustainable management of biodiversity.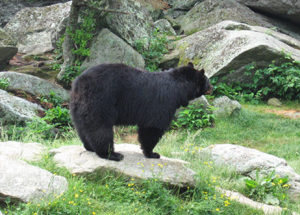 As rugged as it is, many attractions at Grandfather Mountain are accessible to people of all abilities. That includes the Mile High Swinging Bridge, which can be accessed by driving to the parking lot at the top of the mountain and taking the Top Shop elevator to a paved path that leads to the bridge.
Admission tickets are needed to visit Grandfather Mountain. Guests purchase tickets (one ticket per person) and drive their own vehicles through the park, stopping along the way to enjoy a variety of activities. Ticket proceeds are used to preserve and protect Grandfather Mountain for future generations.
Banner Elk's close proximity makes it an ideal place to stay when visiting to Grandfather Mountain. For special Grandfather Mountain lodging packages, click here. All lodging options are available here, while a restaurant listing is available here.
Grandfather Mountain's website is available by clicking here.