Banner Elk Winery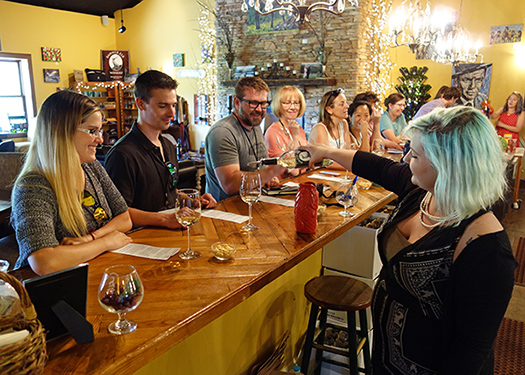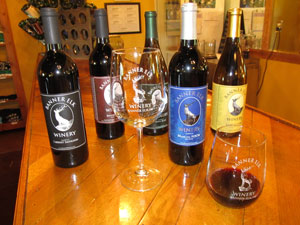 60 Deer Run Lane
Banner Elk, NC 28604
828-898-9090
Banner Elk Winery is situated close to downtown in a picturesque valley surrounded by mountains. Founded in 2006, it was the first commercial winery in Avery and Watauga counties.
Winemaker Dick Wolfe makes a variety of wines from grapes grown on property and sourced from other local vineyards. The Marechal Foch is made from French-American hybrid grapes that produce a red wine with intense flavors and color. Banner Elk Red, a winemaker's choice blend of Marechal Foch, sangiovese and merlot, has won a gold medal at the International Eastern Wine Competition in Sonoma, California, and was named the best red hybrid at the North Carolina State Fair in 2011.
Banner Elk Winery produces two unusual specialty wines. Its blueberry wine pays tribute to the property's historic blueberry farm, and is produced from fruit grown on bushes that remain. The ice wine is a rare variety made from high-elevation grapes left on the vine until the first freeze. These frozen grapes are harvested and pressed while still partially frozen. The result is an intense, highly flavorful wine.
Overall, the vineyard produces nine wines on an annual basis: four reds (Cabernet Sauvignon, Marechal Foch, Banner Elk Red, High Country Rosé), three whites (Banner Elk White, Seyval Blanc, Vino Francesco Chianti White) and two dessert wines.
Private tastings for parties of 10 or more are available with advance notice of at least a week. There is also a luxury villa on property that can accommodate corporate meetings and retreats, weddings and private functions.
The winery is open for tastings every Tuesday through Sunday. Tours are available on Friday, Saturday and Sunday from May through October.
More information is available at 828-898-9090 or www.bannerelkwinery.com.