Banner House Museum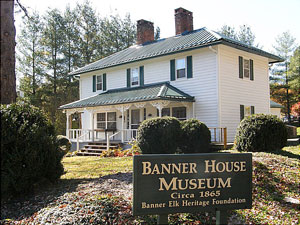 7990 Hickory Nut Gap Road
Banner Elk, NC 28604
828-898-3634
The Banner House Museum demonstrates what life was like in the North Carolina mountains during the mid to late 1800s.
Built in 1865, the house belonged to the Banners, one of Banner Elk's founding families: Samuel Henry Banner, his wife, Jane, and their seven children. As the Banner family grew, the area came to be known as Banner's Elk. Eventually, the town of Banner Elk was incorporated by the N.C. General Assembly in 1911.
The Banner House Museum — purchased, restored and opened to the public in 2007 by the Greater Banner Elk Heritage Foundation — displays artifacts that illustrate the daily lives of those early settlers. Visitors encounter period furnishings, farm tools, hand-stitched quilts, vintage clothing, photographs and paintings. Rooms are arranged to depict the culture of the late 19th century, and volunteer docents lead daily tours.
The museum plays host to special events throughout the year, such as Children's Day, a cemetery tour, and a bus tour of historic Banner Elk. The ground floor of the house is accessible to wheelchairs.
The museum is open mid-June through September. For rates and hours of operation, call 828-898-3634 or visit www.bannerhousemuseum.org.