Hawksnest Ziplines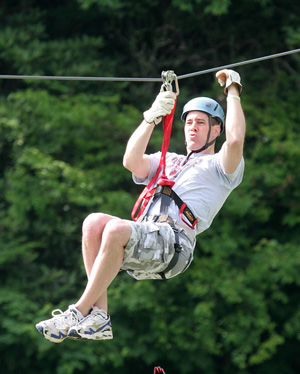 2058 Skyland Drive
Seven Devils, NC 28604
800-822-4295
Hawksnest features four miles of zip-line cables for riders to cruise over trees, lakes and creeks, taking in panoramic views of the Blue Ridge Mountains. The attraction is located just off of Highway 105 South between Boone and Banner Elk, high atop Seven Devils.
Whether you are a first-time zip-liner or you have several rides under your belt, Hawksnest is a fun place to experience the thrill of a zip line while surrounded by mountain scenery.
The most popular option is the Hawk Tour, which is ideal for beginners. The one-and-a-half-mile tour involves 11 cables; two of them stretch more than 1,500 feet and reach heights of more than 150 feet. Participants hit speeds up to 35 miles per hour. Zipping through the trees gives the feeling of riding through a tunnel. The tour also has two swinging bridges. Children as young as 5 years old can take the Hawk Tour.
The more-advanced Eagle Tour requires good physical condition due to high speeds and long distances. The nine-cable tour covers three miles and reaches speeds up to 50 miles per hour. Two cables are more than 2,000 feet long, and several are more than 200 feet high. If you're an experienced zip-liner or an adrenaline junky, the Eagle Tour is for you.
Children must be at least 8 years old. Both tours take between one-and-a-half to two hours to complete. After your tour, enjoy the view from the observation deck at the Hawksnest mountaintop lodge.
Reservations are required for tours, and participants should arrive 30 minutes before the scheduled start. Hawksnest welcomes company team-building outings and large groups of family or friends.