Linville Caverns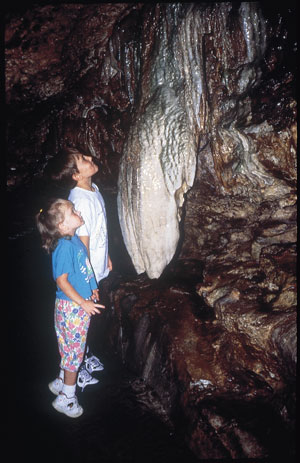 19929 US 221 North
Marion, NC 28752
800-419-0540
Step inside Humpback Mountain with a guided tour through Linville Caverns. The active caverns reveal stalactite and stalagmite formations — points hanging from the ceiling or rising from the floor formed by the minerals in dripping water.
The caverns were first discovered in the early 1800s when fishermen from eastern North Carolina spotted trout that appeared to be swimming in and out of a rock. Their investigation led them to the caverns and an underground stream.
Linville Caverns opened to the public as an attraction in 1937. Since then, the pathways have been upgraded and lighting has improved to make the cavern experience safe and enjoyable. Even during the heat of a Southern summer or the chill of a mountain winter, the caverns maintain a comfortable 52 degrees year-round.
Tour guides lead visitors into the caverns and explain their history. You can still see trout and other wildlife, such as bats, that call the caverns home. Much of the cavern tour is wheelchair accessible. Flash photography and videography (without an external light) are permitted. The tours last about 35 minutes. A gift shop and restrooms are located on site.
Linville Caverns are open daily March through November, and open Saturday and Sunday December through February.