Mast General Store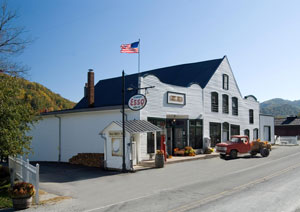 North Carolina 194
Valle Crucis, NC 28691
866-367-6278
What was once a community necessity in rural Valle Crucis is now a popular stop for tourists to journey back in time. Folks come to play checkers by the pot-bellied stove, listen to bluegrass music on the back porch or just enjoy a Moon Pie and RC Cola.
Mast General Store opened as The Taylor General Store in 1883 before W.W. Mast purchased the store in 1913 and tried to stock everything local residents need from cloth and plow points to cradles and caskets. The store earned the motto, "If you can't buy it here, you don't need it." Today the original store operates in the same location, with expanded space in the Mast Store Annex just down the street.
Visitors notice the creaky floorboards as soon as they step into the store, along with vintage items from long ago. Tins, signs, tools and dishes are displayed on the top shelf. If you're looking for a piece of pottery, a washboard to hang on the wall or an oil lamp for the mantle, the store stocks plenty of home decor items. But the majority of the store's products are functional, hardworking pieces. Many carry the "Made in the USA" designation.
The shoe department has a helpful staff ready to fit you with hiking boots or walking sandals for outdoor mountain activities. And you'll find country-kitchen staples, such as cast iron skillets, herbs and spices, and stone-ground grits. Two-tenths of a mile away in the Annex, the clothing and outdoor-gear departments stock coats, sleeping bags, backpacks and camping supplies.
Another customer favorite is located in the Annex: Barrels of old-fashioned candy sold by the pound. Adults enjoy searching for childhood sweets — Cow Tales, Bit-O-Honeys, Mary Janes — and sharing them with kids and grandkids. Mast General Store now has multiple locations in North Carolina, South Carolina and Tennessee; the closest to the original is eight miles away on King Street in downtown Boone.