Rocky Knob Mountain Bike Park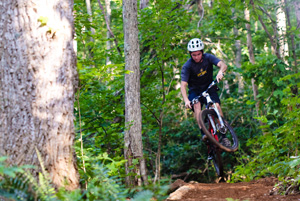 US 421 S
Boone, NC 28607
828-266-1345
Rocky Knob Mountain Bike Park is an extreme playground for cyclists in the Blue Ridge Mountains. The park occupies 185 acres just east of Boone off U.S. Hwy. 421. Eight miles of custom-built trails weave through the forest, offering a one-of-a-kind way to explore the High Country.
Single-track trails accommodate all skill levels, from the moderate 1.5-mile Rocky Branch Loop to the three-quarter-mile Ol' Hoss Trail exclusively for experts. The trails are also accessible to hikers and trail runners.
A pump track with rollers, berms and other features allows riders to learn and improve their bike-handling skills. The Rocky Knob pump track is one of the first in the country to incorporate informational signs to teach riders the skills required to master the track. Necessary skills vary from beginner to advanced, including such things as proper body position, pumping, bunny hopping, "manualing" and wheel lifts. Cyclists can practice at four skills parks on the property.
Kids enjoy the adventure playground, where they climb ladders, slip down slides and teeter across a ropes course. The park also includes a picnic shelter and bathrooms. For those who want to visit the park but don't have a bike, two local shops in Boone — Boone Bike and Touring, and Magic Cycles — offer rentals. The park often plays host to races and special events.
In 2014, Rocky Knob Park was designated a National Recreation Trail system by the U.S. Department of the Interior. Volunteers from Boone Area Cyclists, a local nonprofit, contributed more than 3,500 hours of work to establish the park. Volunteers meet once a week for "dirty Thursday" to work on trail maintenance.