Turchin Center for the Visual Arts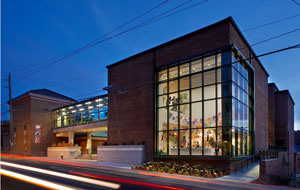 423 West King Street
Boone, NC 28608
828-262-3017
Appalachian State University's world-class visual arts center occupies a unique location in the heart of downtown Boone, yet within the physical boundaries of the campus. This makes it easily accessible by visitors and students alike.
The Turchin Center is the largest of its kind in Western North Carolina. Its exhibitions focus on a blend of new and historically-important artwork and feature the work of nationally and internationally renowned artists, as well as many of the region's finest artists.
However, the center is not devoted solely to the viewing of art. It has multi-faceted programs to give it a dynamic, living, breathing presence in the Appalachian community. The goal is to create opportunities for people of all ages and backgrounds to experience the power and excitement of the visual arts.
The center's urban location places it at the crossroads between campus and community. The building is designed to visually and physically make the arts more accessible to the community, and to serve as a gateway to the greater campus beyond the center.
A pedestrian gateway features several areas for public sculpture, including the Kay Borkowski Sculpture Garden. Visitors are able to walk through the gardens and access nearby Valborg Theatre, the Belk Library and Information Commons, and the University Bookstore.
Admission is free. For more information, call 828-262-3017 or visit www.tcva.org/about