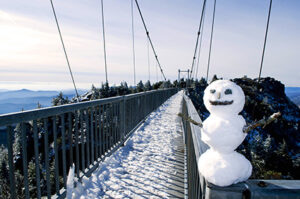 An invigorating winter getaway awaits in the mile-high elevations surrounding Banner Elk. This town in the North Carolina mountains offers the chance to get outdoors with hiking and exploring at Grandfather Mountain, as well as snowtubing at nearby ski resorts.
One of the biggest winter attractions in the area is Grandfather Mountain — known for its distinctive profile and Mile High Swinging Bridge. The mountain, a popular attraction since the 1950s, is open daily in winter, weather permitting.
Grandfather's 12 miles of trails include easy and advanced routes. For a low-impact adventure, talk a walk across the Mile High Swinging Bridge or embark on an easy hike through forests and meadows. Those wishing to take it up a notch can do so on backcountry trails featuring challenging and rocky terrain. Winter hikes afford long-range views not visible when leaves are on the trees.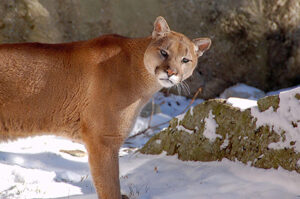 "A winter hike is one of the most invigorating, fun and memorable outings that you can make during this season," says Frank Ruggiero with Grandfather Mountain. "You can see winter spread out through the whole High County."
At 5,946 feet in elevation, Grandfather Mountain experiences beautiful snowfalls. And when there's no snow, rime ice often forms on spruce fir trees, giving the appearance of a fresh dusting of the white stuff.
Snow brings out the animals' personalities in Grandfather's wildlife habitat. Cougars Logan and Trinity frolic in the fluffy flakes. Resident elk, Doc, Merle and Watson, look particularly regal against a backdrop of snow, and the mountain's four otters steal the show.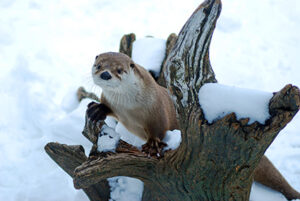 "The otters are an absolute riot," Ruggiero says. "They adore the snow. They go ice-skating, slide down hills and play hockey on the pond by sliding a rock back and forth to each other."
If you want to enjoy winter sliding, try snow tubing. Sugar Mountain and Beech Mountain resorts offer multiple tubing runs with advanced snowmaking and grooming to keep the chutes slick. Twenty-five minutes away, Hawksnest Snow Tubing has more than 30 runs and a zipline experience above the tubing runs. Click here to read all about snow tubing in Banner Elk.
After your winter adventure, enjoy Banner Elk's top-notch culinary scene at one of more than a dozen independent restaurants. Standouts include authentic Italian dishes made from family recipes, a classic steakhouse with a famous salad bar and a cozy lodge with some of the best trout in the mountains.
Banner Elk offers lodging packages that include tickets to Grandfather Mountain. For a complete list of Banner Elk lodging choices, click here.