The Banner Elk Greenway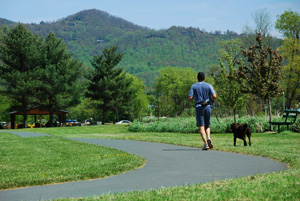 200 Park Avenue
Banner Elk, NC 28604
828-898-5398
Banner Elk has approximately 1.1 miles of greenway trails. The trails begin at Tate-Evans Park in downtown Banner Elk, which features a trail that loops a third of a mile around the grounds.
The park also has two playground areas, wading pools, a volleyball court, picnic tables, a covered picnic shelter and an amphitheater. Special events and concerts occur in the park throughout the year.
The greenway trails head in two directions from the park. The lower portion goes southward and loops around just outside the park or continues along Shawneehaw Creek and the eastern edge of Lees-McRae College. The greenway creates a convenient, safe and scenic pedestrian connector between the college and the shops and restaurants downtown. Just past the Mill Pond, a footbridge leads across Elk River. Also along the trail is Banner House Museum, the restored 19th-century home of one of Banner Elk's original settlers.
The upper portion of the greenway follows the Shawneehaw Creek north from Tate-Evans Park and runs parallel with Main Street until ending at Dogwood Road. The greenway passes right by The Banner Elk Inn, a historic bed-and-breakfast. Flat Top Brewing Company is located near the greenway's northern end point. Whether you're strolling downtown for a pint or getting in your daily exercise, the greenway trail is a valuable resource.
More information is available at www.townofbannerelk.org/recreation/greenway-trail